Truth time: I fully planned on doing a "Weekend Brunch" post with Morning Glory muffins, but they weren't up to Quality Control's standards, so we'll go ahead and mark that one "Try Again Later." I've actually never had them before, so can someone tell me- are they usually extremely dense and moist… too the point where they could be considered TOO moist?
---
However, I do have this wonderfully simple side dish/salad to pass along to you. I first tried panzanella a couple of years ago and loved it. Even David thought it was delish, and he has a weird thing about liquid soaked bread (example: he never eats the bread crouton holding up all the glorious cheese in French Onion Soup. Fool!). Panzanella is an Italian bread salad, and can be a pretty-much-anything-goes backdrop, where you can put in whatever you need to get rid of out of your produce drawer. This time of year, for me, it's always tomatoes, which works out well- the bread soaks up all the fresh tomato juices!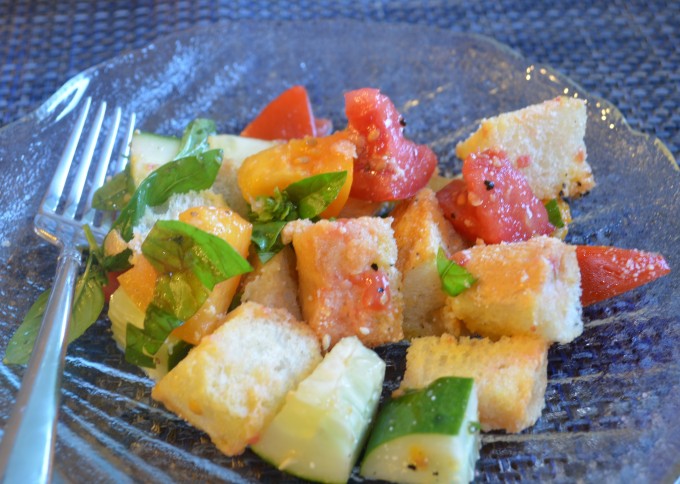 Panzanella (Bread Salad)
Ingredients
1/2

loaf day-old Italian or French bread

2

large tomatoes

chopped (I used a red and orange tomato for color)

1/2

cucumber

chopped

1

clove

garlic

minced or pressed

handful fresh basil

rough chopped

Salt & freshly ground pepper

1/4

cup

olive oil

1

T 

red wine vinegar

2

T

romano cheese

finely grated
Instructions
Add bread, tomatoes, garlic, cucumbers, olive oil, salt & pepper, vinegar and basil in a large bowl and toss until ingredients are evenly incorporated. Let stand for 5-10 minutes to let the flavors come together. Sprinkle with cheese and serve.
Note: for a different flavor, try grilling the bread first. Garlic bread is also another great options. Or both!!