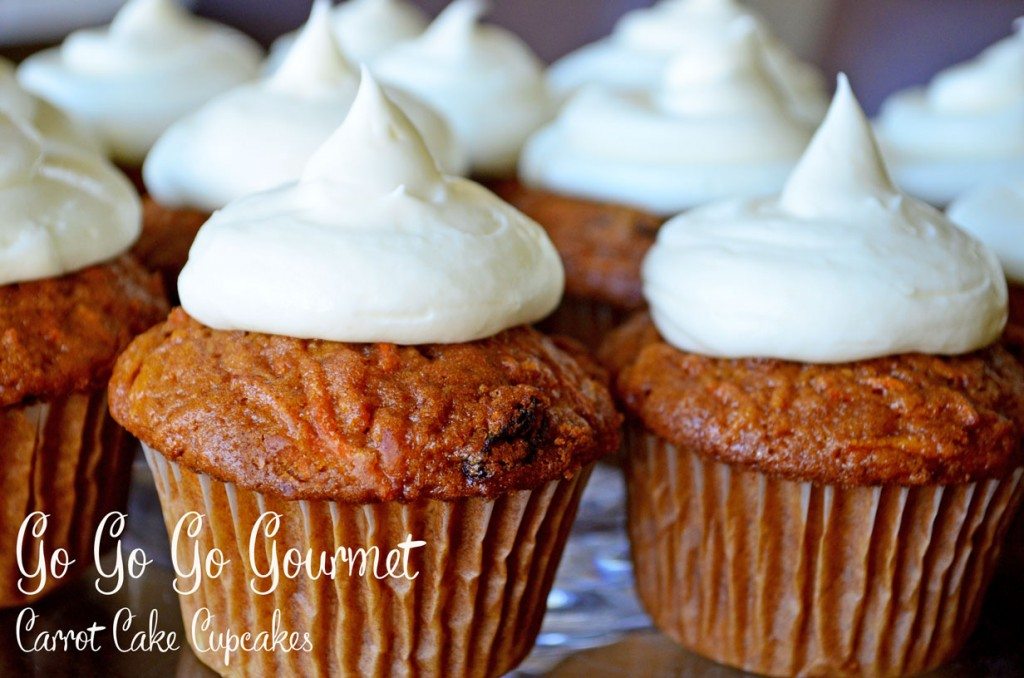 If ever a recipe proved anything, it's this one- muffins are just cupcakes without frosting. Seriously though! Have you ever noticed this in The Very Hungry Caterpillar? On Saturday, when he is gorging himself on every single random bit of food that he could find, the second to last thing he eats (according to the book) is a cupcake. I don't know man, to me it just straight up looks like a muffin…
I've always been a lover of carrot cake, which in and of itself is rather odd since I'm not a massive carrot fan (except in stews, then all bets are off. Raw carrots? A disgusting waste of space on a vegetable tray.) In fact, my husband even takes his turn in the kitchen on my birthday and makes me one. He has gotten pretty good over the years too, I have to say. I'll never forget the very first one he ever made- he wrote "Happy Birthday Jacqueline" across the top in gel food coloring. I didn't have the heart to tell him that he was supposed to mix it into the frosting, THEN write with it. No harm, no foul.
So as the carrots have been accumulating in my fridge lately, I decided it was time to do some baking. I wanted to see if I could kill two birds with one stone with this recipe- could I adapt a carrot cake cupcake recipe to 1. not include nuts (which Dave generally hates in baked goods), 2. use a lot of carrots, and 3. be appropriate breakfast fare. Managed to achieve all three points here, so I'm pleased. Without the cream cheese frosting, these are a great carrot-raisin breakfast muffin. Topped with a mount of cream cheese frosting, they are the perfect sweet-but-not-too-sweet carrot cake cupcakes. Win-win!
Side note: If you can, use a food processor to shred your carrots, although Dave considers this to be cheating and says that takes all the love out of it. Frankly, I think carrot cake tastes better when it doesn't contain my blood. Just my opinion!
Carrot Cake Cupcakes
Ingredients
4

eggs

1

cup

sugar

3/4

c

light brown sugar

1

cup

oil

1

T

vanilla

2

tsp

cinnamon

2

tsp

baking soda

2

tsp

baking powder

1/2

tsp

salt

3

cups

flour

4

cups

finely shredded carrots

1

cup

raisins

Cream Cheese Frosting:

8

oz.

cream cheese

softened

3

T

butter

softened

1

tsp

vanilla

3

cups

powdered sugar
Instructions
Preheat an oven to 350F.

Prepare 2-12 well muffin tins by lining the wells with paper liners or spraying with nonstick cooking spray.

In a large mixing bowl, beat together eggs, sugar and brown sugar.

Add in oil, vanilla and cinnamon; mix to combine.

Sprinkle baking soda, baking powder and salt over the top, thoroughly mix in. Stir in flour, then raisins and carrots until all are evenly incorporated.

Using an ice cream scoop, spoon batter into prepared cupcake tins. Bake for 30 minutes, or until a cake tester comes out clean. Set aside to cool

Mix up the frosting: beat together cream cheese and butter. Add in vanilla, slowly mix in powdered sugar; beat until light and fluffy.

Spoon frosting into a piping bag or Ziploc bag with the corner cut off. Pipe frosting on top of cupcakes and serve.