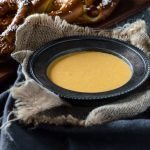 Print
Melty Beer Cheese Dip
This hot Beer Cheese Dip recipe is the best! This beer cheese dipping sauce is perfect for pretzels! Game day food has never looked so good!
In a bowl, toss together the shredded cheese and cornstarch.

Add the beer, mustard, Worcestershire and spices to a saucepan. Bring to a simmer over medium heat.

Reduce heat to medium low. Add the cheese and cream cheese in three batches, whisking well after each addition, whisking until fully melted and smooth.

Serve immediately.