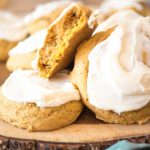 Print
Ginger-Studded Pumpkin Cookies
These Iced Pumpkin Spice Cookies are the perfect way to celebrate fall. They are cake-like, full of fall flavor and topped with a creamy frosting. A fall staple for years!
Heat oven to 375°F. In large bowl, beat brown sugar, crystallized ginger, softened butter, the pumpkin and egg with electric mixer on medium speed until well blended. Stir in remaining cookie ingredients to form soft dough.

Using a large cookie scoop, place 1½" scoops of cookie dough about 2 inches apart on ungreased cookie sheets.

Bake for 10 minutes or until light golden brown. Immediately remove from cookie sheets to cooling racks. Cool completely, about 15 minutes.

In a mixing bowl, mix powdered sugar into melted better. Add in vanilla and milk and stir vigorously until smooth. Frost cookies and serve.