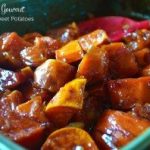 Print
Candied Sweet Potatoes
These Candied Sweet Potatoes are the perfect sweet side dish to serve at Thanksgiving! If you've ever wondered how to make candied sweet potatoes, this is the ultimate recipe. They might just end up replacing one of your go-to dishes!
Preheat oven to 375

In a small saucepan, combine syrup, water, brown sugar and spices. Bring to a boil, and stir until sugar is dissolved. Set aside.

Peel and cut the potatoes into large 2" chunks. Arrange potatoes in a 13 x 9 baking pan, pour syrup mixture over the top, and stir until potatoes are coated. Dot butter over top.

Bake for 1 hour or until potatoes are tender, stirring 3-4 times during to make sure the potatoes are coated evenly.