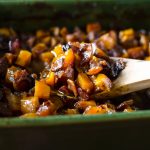 Print
Bourbon Bacon Brown Sugar Butternut Squash
With only 5 ingredients, you are well on your way to making this delicious Bourbon Bacon Brown Sugar Butternut Squash! Not only is it great for Thanksgiving, but it's the perfect side for any day of the year!
1. Preheat oven to 350.

2. In a small saucepan, melt the butter over medium heat. Add the bacon to the pot and sauté until the fat has rendered and the bacon is crispy. Remove bacon from the pan and set aside.

3. Add in 1/2 cup of the sugar and bourbon and stir until the sugar has dissolved and a syrup has formed. Add the butternut squash to a baking dish and drizzle the bourbon syrup over top. Sprinkle the remaining brown sugar over.

4. Bake for one hour, until the squash is tender. Stir the bacon back in and bake for 10 minutes more.